The worldwide growing demand for reliable starting methods in medium voltage applications, together with the requirement for standardised products is a field where our compact starter type KAE comes into place.
The compact starter type KAE is based on the Korndörfer starting method and is designed to operate in conjunction with standard medium voltage squirrel cage motors (asynchronous and synchronous). The Korndörfer starting method is well-known to provide the optimum effect in inrush current limitation and at the same time providing sufficient torque for motor and machine for safe acceleration. The compact starter type KAE is a perfect match for the installation between motor feeder panel and motor with a minimum of control interfaces and basic internal protection features.
We start your large drive and our compact starter type KAE protects your motor against electrical, mechanical and thermal stress during start-up.
Never accept less than the highest standards!
The compact starter type KAE is type approved according to IEC 62271-200 and will be manufactured in compliance with IEC standards, VDE 0532, the EC directives and the ISO 9001 standard. Individual approvals by ABS, BV, DNV-GL, LRS, etc. are available for our compact starter type KAE.
Do not waste time during installation and commissioning!
Each compact starter type KAE will be delivered factory tested and completely assembled with a preset software as a turnkey solution.
Never fear to lose the control about your process!
The compact starter type KAE will be perfectly integrated into your application and protects your network from impermissible voltage drops to keep your process stable.
Minimize expenses for maintenance and repairs!
The exclusive use of parts with a high reliability together with our TQM ensure a meantime between failures (MTBF) which meets highest expectations. The clean design grants easy access to all components and keeps the meantime to repair (MTTR) at a minimum.
Technical specification
Technical specification
Rated voltage:
3,6 kV up to 12 kV
Operating voltage:
2,3 kV up to 11 kV
Power frequency withstand voltage:
up to 28 kV
Basic impulse level (BIL):
up to 75 kV
Rated frequency:
50/60 Hz
Rated current:
up to 850 A
Rated short circuit current:
up to 40 kA
Rated short circuit duration:
1 s
Autotransformer type:
Vacuum pressure impregnated (VPI) dry type
Autotransformer insulation class:
H *
Autotransformer vector group:
Ya0
Max. starting time:
10 s *
Number of starts per hour:
3/2 *
Control voltage:
230 V AC *
Ambient temperature:
0 to +50 °C *
Relative humidity:
5 to 95 % *
Installation altitude:
≤1000 m *
Degree of protection:
IP 4X up to IP 54
Cable entry:
Bottom *
Cabinet colour:
RAL 7035 *
*other on request
Single-line diagram (SLD)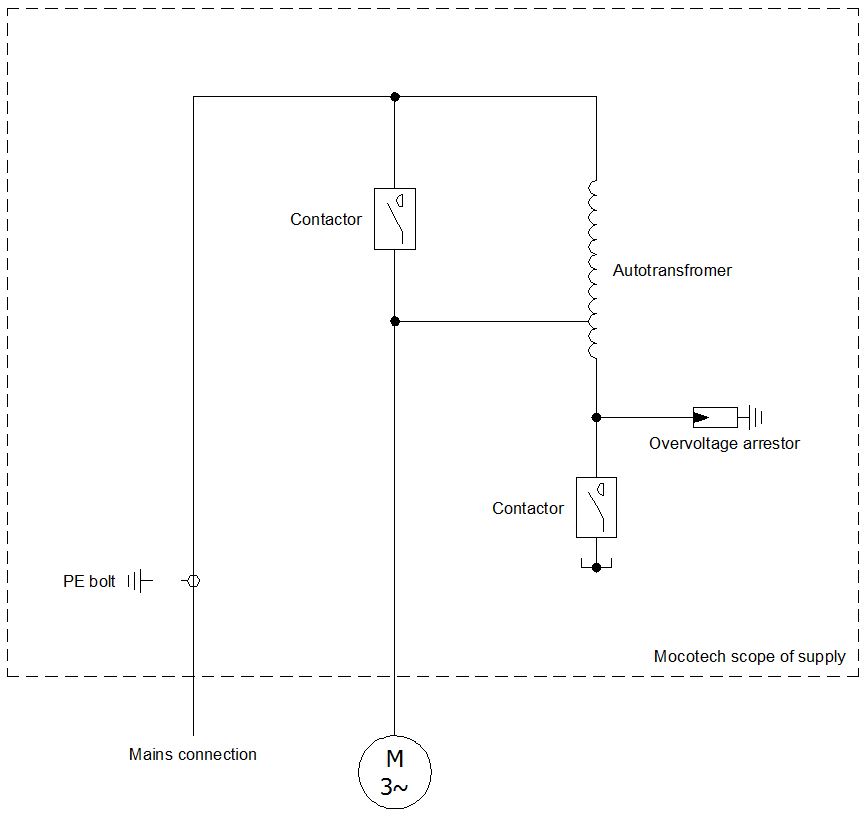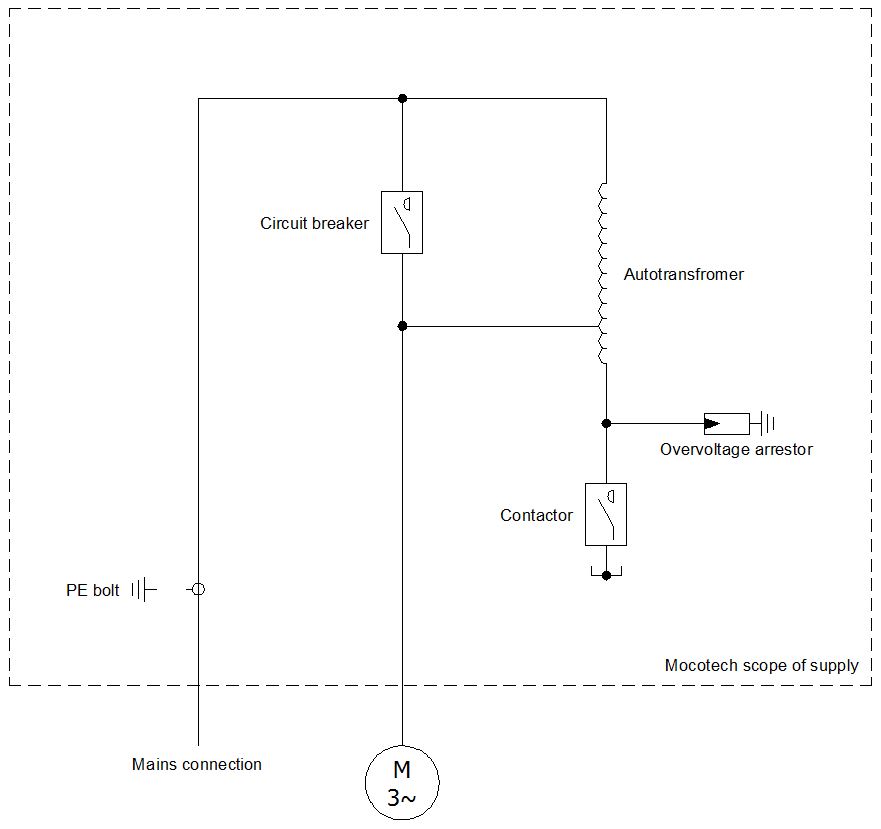 Downloads